Over the past ten years I have worked to create space in my work, my life and in my mind. Space to think, to breathe easy, to reflect and to celebrate moments of joy. Space to be creative, to make meaningful progress, to make a difference in a way that is positive for me and those around me. Space to excel, space to thrive, space to survive when things got tough.
I have made space for myself and my voice in my life and my work. And the process began with the desire to change something at a time when I felt entirely stuck.
Initially, I didn't know what to do or how to do it and so I set out to find help and inspiration: embarking on a coaching relationship was an essential part of making the changes I wanted to see happen, and to learn the skills and find the tools I needed. Coaching to me became a series of lightbulb moments that illuminated my path from where I was to where I wanted to be. Even now, every time I start a coaching conversation, I am full of curiosity about what we will learn together, looking forward to moments of clarity, reflection and realisation.
I know just how pivotal such lightbulb moments can be, whether you are looking to clarify your goals, make decisions or are heading into a period of change. That's why I love being a coach.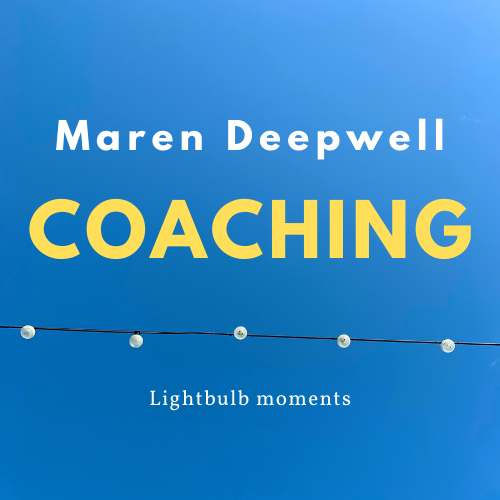 If you are interested in coaching with me, get in touch to arrange a 30 min exploratory conversation. During this session we will get to know each other a little, discuss what your goals are and what you are looking to get from coaching and find out more about how I work and my values.
I offer 1-to-1 coaching for individuals, usually for six online sessions. Coaching sessions are 60 minutes long and include:
Setting an agenda together, defining what the session will focus on and session objectives
Using powerful questions, activities and resources
Checking in on session objectives and making a plan for next steps
My approach is specifically designed for professionals working in the third sector, education and learning technology, with a focus on leadership and career development, managing change and creative problem solving.
Coaching offers 2022
I currently offer discounted packages for paying clients as part of completing my coach training. For professionals who are not supported by their employer and for whom cost is a barrier to coaching, I also offer pro bono coaching sessions.
1-to-1 Coaching: each six sessions £210 (normal price £420)
Exploratory conversation
Coaching plan
Six 1-hour coaching sessions (online)
Coaching resources
If you are interested in coaching with me, get in touch to arrange a 30 min exploratory conversation.
Walk with your coach
Sometimes a video call is not the best environment to get us thinking, so for established clients I offer coaching sessions whilst we walk. Usually, this would be coaching via a phone call, but if you are based locally, we could also meet in person. Walking coaching sessions are particularly suited to think together about difficult situations or to reflect on a particular problem or idea.
Inspiration and resources
On my blog and in my quarterly newsletter I share regular news, resources and new ideas. Explore coaching information and resources as well my reflective posts about coach training.
Coach in training
The International Coaching Federation defines coaching as "partnering with clients in a thought-provoking and creative process that inspires them to maximise their personal and professional potential. The process of coaching often unlocks previously untapped sources of imagination, productivity and leadership".
Whilst I have informally provided mentoring and coaching over the past few years, I am taking part in formal coach training. In order to become an accredited coach, an ICF Associate Certified Coach, I am taking part in Katie Linder's Higher Ed Coach Training.