It was a great pleasure to return as a guest to the wonderful #LTHEchat for a conversation all about hybrid working.
For #LTHEChat 254 we shifted our focus from learning to work. We discussed ways in which learning and teaching practices can inspire a more sustainable and equitable hybrid workplace. If you haven't yet seen it, read the original post on the #LTHEchat site.
I was very curious to hear different perspectives and see where this conversation would leads us, and it was a very fast paced, lively discussion on the evening. I found it hard to do more than read, and like or retweet during the live conversation, and I also wanted to give as much room as possible for everyone to express their views and share their experiences, instead of dominating the conversation.
It's been such a pleasure to work together with the amazing people who organise and support this important community activity, and I am so grateful for their support and guidance before, during and after the chat.
The chat in action
Here are the questions we explored:
Q1: What is your experience of hybrid working? #LTHEchat
Q2: How has hybrid working made a positive impact in your institution? #LTHEchat
Q3: What can we learn from hybrid learning to develop effective hybrid working? #LTHEchat
Q4: What role should staff play in the hybrid learning/working skills development of students? #LTHEchat
Q5: What do you see as the biggest challenge for the future of hybrid working #LTHEchat
Q6: Share one hybrid working tip that you would recommend to others (and why). #LTHEchat

LTHEchat 254
There was a lot of rich conversation and I am still reflecting and delving back into various exchanges, which I hope to write about more in due course. For now, here are a few moments that jumped out at me on the day:
It was inspiring to see how many different answers everyone had in response to "What is your experience of hybrid working". It's easy to loose sense of how different contexts impact on our ways of working, both personal and institutional, and this opener to the chat provided a vivid reminder of the broad range of hybrid working models that are happening across this community.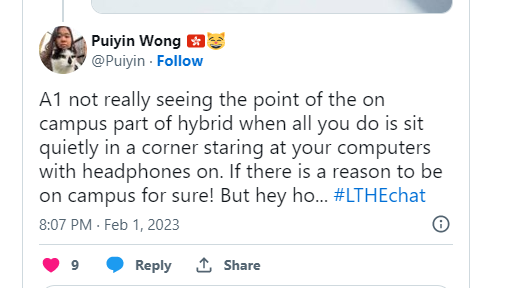 Another aspect of hybrid working that came across strongly was the enduring importance of social connection. This is something many contributors mentioned in a number of ways, regardless of whether they had long term experience of working in remote and distributed team or whether they were relatively new to it.
The LTHE chat to me always feels like a valuable opportunity to connect with folk in and of itself, but this topic brought this to the forefront of my mind more than usual. It was amazing to glimpse a little of what folk feel is the reality of their home office life, office days and travel.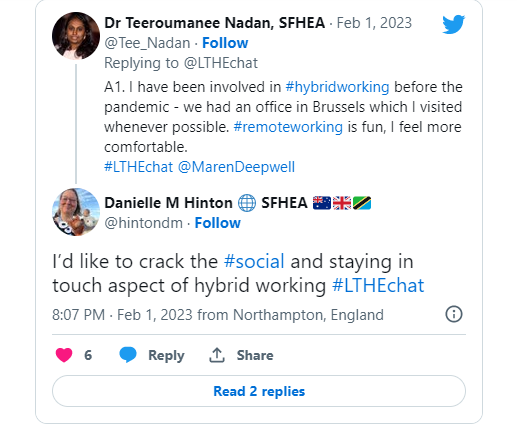 A lot of posts sounded very positive about hybrid work, with many contributors feeling more productive and seeing many upsides to the increased flexibility. But we also spoke about a lot of challenges: from equipment and connectivity to the lack of leadership, appropriate policies and lack of trust.
There is so much more to dive into.. have a look at the chat for yourself.
Explore the Wakelet
You can now explore the whole conversation on the Wakelet: https://wakelet.com/wake/hx_8tyRERoRoSUhq-AFyj