I was on a long awaited break at the end of June and I missed out blogging about what I did in June… and so you get double the monthly blogging goodness in one post 🙂
First up… CEO updates
Things were BUSY for me as a CEO in June, as I wrote in my report to Members of ALT. Not only did we hold our AGM, announced new Trustee appointments and a Board meeting all in the same week, but we also launched our Impact Report, which I am really proud of: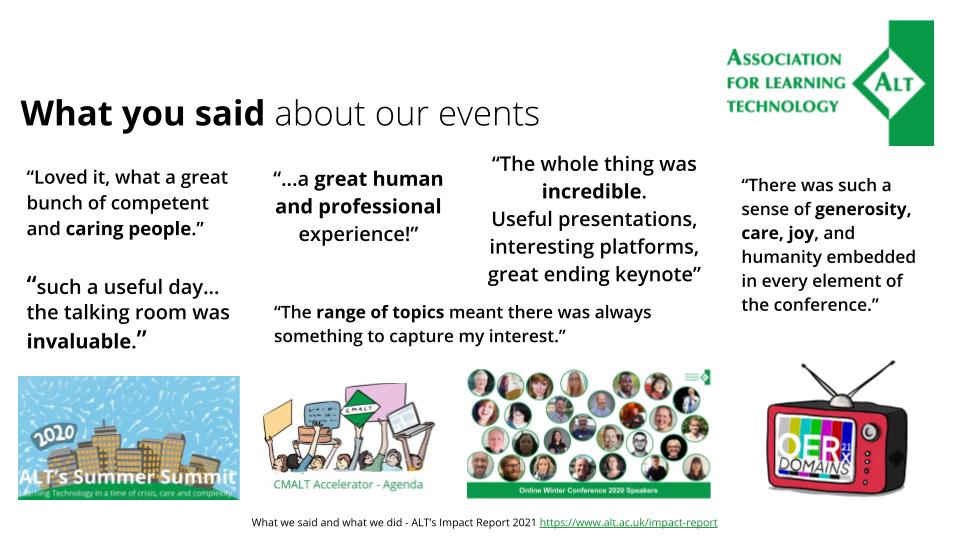 That was my week of the year to hit all the big annual milestones and I am glad to say that the feedback was excellent. After the year we and everyone in Learning Technology has had, it means a lot to me that I have contributed to turning things around for us. We are once again on an upward trajectory, and as an independent charity we have weathered the crisis, for now at least. That is a great achievement as a CEO and for my whole team.
We also shared the consultation response to the draft ethical framework we are developing and this is a project very close to my heart. We conducted an open consultation from 7 May – 9 June 2021 and received 165 responses – thank you! The consultation asked for feedback and input about different elements of the framework:
Ethical principles for professional practice in Learning Technology
Putting principles into action – reflective practice, practical tools and a checklist
Work is now underway to create the resources which will launch in September. Speaking of September…
There is also a very exciting (and online first) ALT Annual Conference on the horizon…! Even after running a whopping 157 online events in the past year with over 5,000 participants in total, we prepare for the Annual Conference somewhat differently. It's our biggest event, our flagship conference, with a lot of history, and meaning for our community.
The kind of value we want to provide goes well beyond sharing solutions and disseminating findings. To me, and to many others, ALT's Annual Conference is 'not just another (online) conference' but it is an opportunity to make plans, to connect to colleagues and to energise and mobilise your networks for the year ahead. That kind of energy and inspiration is much needed and precious. Here is a blog post sharing what I'm hoping for for #altc #altc21.
Personal update, birthday and my break 🙂
Grateful to be fully vaccinated now 🌈 pic.twitter.com/GOUOPvEVbh

— Dr Maren Deepwell (@MarenDeepwell) June 23, 2021
Lovely surprise early gift, card & tea from my @A_L_T Team for tomorrow. I love my work and really appreciate my fantastic #altc colleagues 😀 Now it's time for a two week break from work🏖️ pic.twitter.com/ErPXWX63gH

— Dr Maren Deepwell (@MarenDeepwell) June 24, 2021
Enjoying my two weeks off – one week in West Wales ✅ was a wonderful adventure, one more week to relax before I get back to @A_L_T #altc #CEOonHoliday pic.twitter.com/8uXlKUGpX8

— Dr Maren Deepwell (@MarenDeepwell) July 3, 2021
And now… books!
I absolutely LOVED reading Where you are is not Who you are by Ursula Burns (thank you, Catherine, for the recommendation). It's an awe inspiring and awesome read and really made me think about being a CEO in a new way. It was fantastic to read about the reflections of someone who has had a successful career as a principled leader.
Another great read from this past month has been Girl, Woman, Other by Bernadine Evaristo. And all the while, I was listening to DS106 Radio of course, and took part in the 24 hour marathong that Jim Groom organised to celebrated it's 10 year 6 month (106) anniversary. You can read my love letter to emergency broadcasting here.
This morning I ran down to the river #cardiffLife #morningRun pic.twitter.com/zUXMcXc5kn

— Dr Maren Deepwell (@MarenDeepwell) July 22, 2021
And… I have finally managed to reclaim my morning runs.
But. Most excitingly I have started to finally write the Leading a Virtual Teams Book and I am now two chapters into what I hope will be a year long writing project. And of course, you can read along:
This month, I am writing Chapter 3: Leading a virtual team:
Is leading a virtual team very different from leading a team that is geographically co-located? This chapter explores what the reality of leading a virtual team is like for managers and leaders, reflecting on the ups and downs of leadership and sharing ideas for how to find your own virtual leadership style.
Exciting times and hopefully some useful output for everyone who finds themselves leading a virtual team.
Quick links
Key insights for 2021 – a presentation for Russel Group Universities IT Directors (RUGIT), 14 July 2021;
Developing ethical approaches to learning technology, a Fair Comment article, Common Wealth of Learning, July 2021;
Learning And Teaching Reimagined: Understanding The Response To COVID-19 And Exploring The Future Of Digital Learning And Teaching @ The Future of Blended Learning in Higher Education 2021, keynote, 17 June 2021;
Pedagogy and Practice when Teaching Online, webinar, 10 June 2021;