ALT was founded in 1993 and last year was the first (and hopefully only) year in our history that we didn't run our Annual Conference. Instead we organised a Summer Summit that provided much needed crisis support to our community in the run up to a start of term like no other.
This September, our Annual Conference is back, and the excitement is building under the leadership of our three wonderful Co-Chairs, Roger Emery, Farzana Latif and Matt Lingard, and their large and active Conference Committee, who have been blogging about the conference for the past months.
The response to the Call for Proposals was much larger than expected and we are just about to complete the second round of the peer review process with ~90 sessions accepted into the three day programme. That's a LOT.
The theme of the conference this year is exploring Learning Technology through 'Shared Experience, Different Perspectives' with a specific focus on:
Leadership in learning technology
Inclusive practice
Digital well-being
Digital and physical spaces
Our small team and our large committee of volunteers are working together to make this the very best online conference that we can make it and I want to share my hopes for September with you:
We want our online events to be…
As an organisation we have ten years experience in running online events and that is a great asset for us. We learnt a whole lot more from running OERxDomains21 in partnership with Reclaim Hosting and we had such excellent feedback from the format that we are building on this to deliver this year's Annual Conference.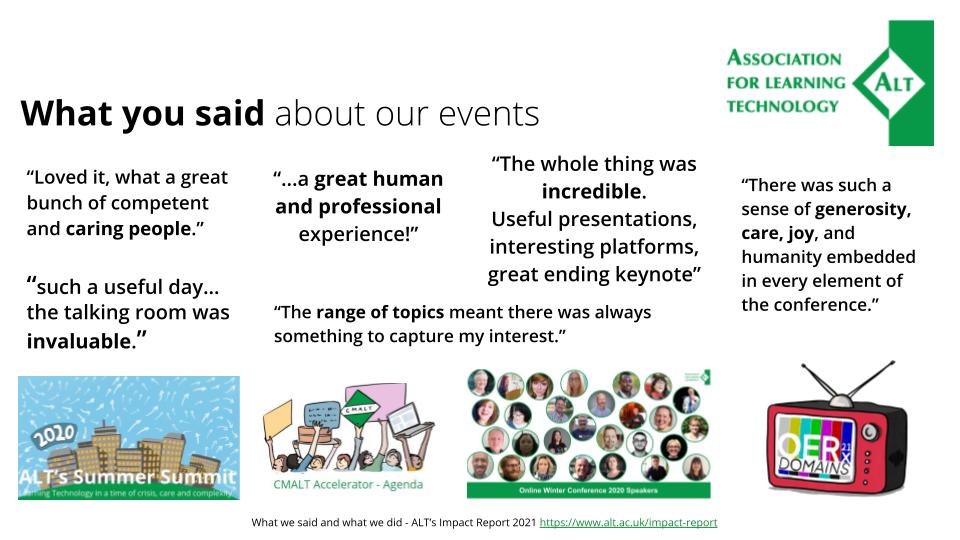 But even after running a whopping 157 online events in the past year with over 5,000 participants in total, we prepare for the Annual Conference somewhat differently. It's our biggest event, our flagship conference, with a lot of history, and meaning for our community.
The kind of value we want to provide goes well beyond sharing solutions and disseminating findings. To me, and to many others, ALT's Annual Conference is 'not just another (online) conference' but it is an opportunity to make plans, to connect to colleagues and to energise and mobilise your networks for the year ahead. That kind of energy and inspiration is much needed and precious.
Flexibility built in
Many participants will have a lot of competing priorities in the same week that the conference is taking place. Protecting the time in which you attend a virtual event is hard and it's become common practice to dip in and out for keynotes, the session where you are presenting and maybe one or two others. We have built in flexibility from the start, to help participants make the most of the event, including:
Sessions are available instantly to replay
A single dedicated resources channel which is accessible to all throughout the event and afterwards
Long breaks at the start, middle and end of the day and short breaks throughout the day
Wellbeing activities scheduled for quiet times and reflection
For our previous online events, this model worked well and we are adding extra tweaks to do justice to a huge programme over three days.
A different online space
We don't use Zoom or Teams internally and we don't use either for delivering our online events at the moment. Instead, we have created a different online space using a combination of tools. For some participants it will mean getting the hang of unfamiliar technology, but for many YouTube, Discord and an online conference programme will be familiar already.
I really relish the combination of individual chats, group channel chats and drop in spaces to accompany an online programme of live streamed sessions. If you are curious what it looks like in practice, looking back at what we did for OERxDomains21 on its programme and help pages.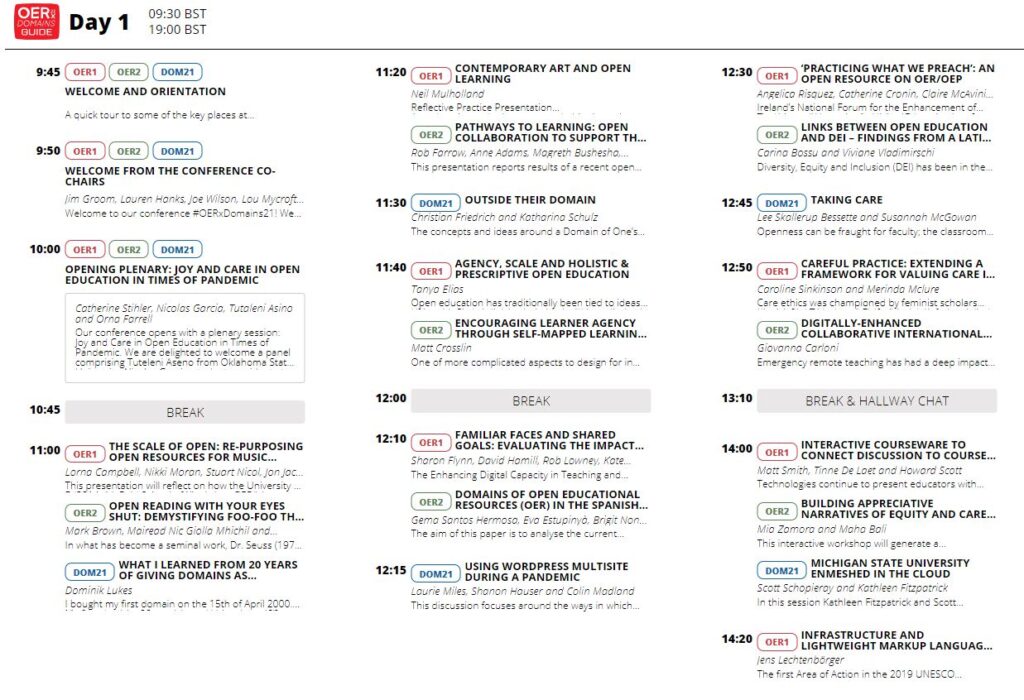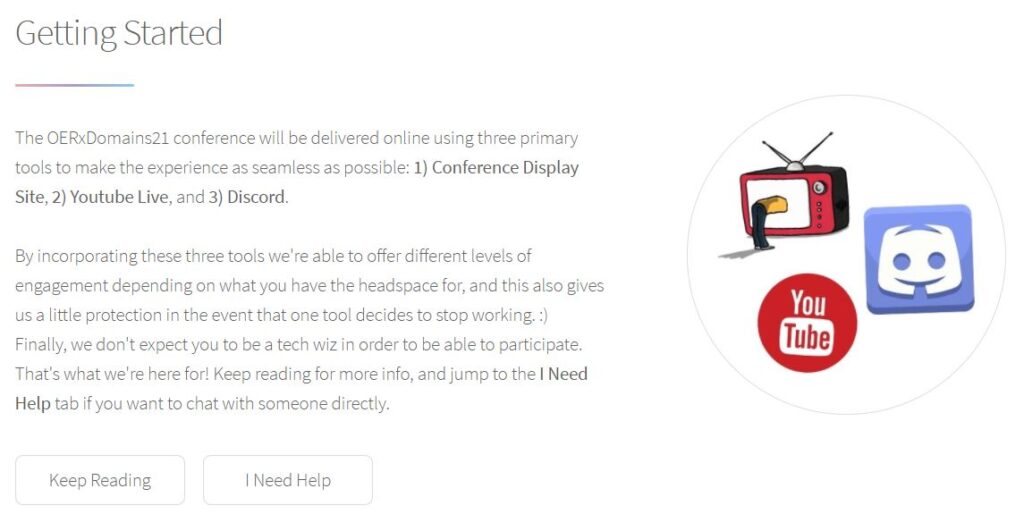 The cost of online conferences
As an independent charity that used to generate 50% of its annual turnover from paid for face to face events, we have been thinking more than most about the cost of online events. The costs we incur (servers, technology, insurance, marketing, media production, staff time) and what's affordable for participants.
For us, running online conference isn't free, and we have to square our business objectives with our strategic priorities to supporting our Members and provide open access to much needed CPD, research and practice.
The conference costs £99 for speakers to attend, £129 for Members and includes both academic and social programmes, access to recourses and recordings and more.
We also offer scholarship places and we have awarded over 50 of them in the past year. We promote our scholarship places alongside registration and we encourage you to select the option best suited to your circumstances.
We also make resources and recordings from the conferences openly available after each event.
A conference with heart and difficult questions to tackle
One of the things we pride ourselves on is that this is a conference with heart. It's organised by Members, we don't sell the keynotes to sponsors (and we value the support of the sponsors we have who understand why that's important and support our event year after year!) and we set aside time for tackling some of the difficult questions we face in Learning Technology.
Last year for example, Angela Saini led a Q&A session which gave participants the opportunity to explore questions such as what we mean when we say that race is a social construct, why racialised thinking persists in science and academia, and reflection on the BAME health disparities during the pandemic.
This year's programme is going to prompt participants to think about the hard questions we are all coming up against as the use of Learning Technology is scaled up.
Kicking off proceedings this year will be Professor Sonia Livingstone, whose research examines how the changing conditions of mediation are reshaping everyday practices and possibilities for action. I have long been hoping to hear Sonia at one of our events, so I am particularly looking forward to this keynote.
Also very exciting is that we have Mutale Nkonde headlining the Wednesday of the conference week. AI For the People (AFP) is a communications firm, founded by Mutale Nkonde. AFP's mission is to empower general audiences to combat racial bias in tech.
And alongside three outstanding keynotes there is also time for proper debate and reflection in three discussion sessions focused on:
Learner Experiences
Future Perspectives
Ethical approaches to professional practice in Learning Technology
The last of these sessions is dedicated to the launch of ALT's new framework, which we have been working to develop since October 2020.
Three days, over a hundred speakers… it will be a very busy conference week in which we will pose questions as well as help find answers.
I hope to see you there, 7-9 September 2021 #altc #altc21.
Join the team
Would you like to be part of making such events happen? We are currently recruiting for a Chief Operations Officer.