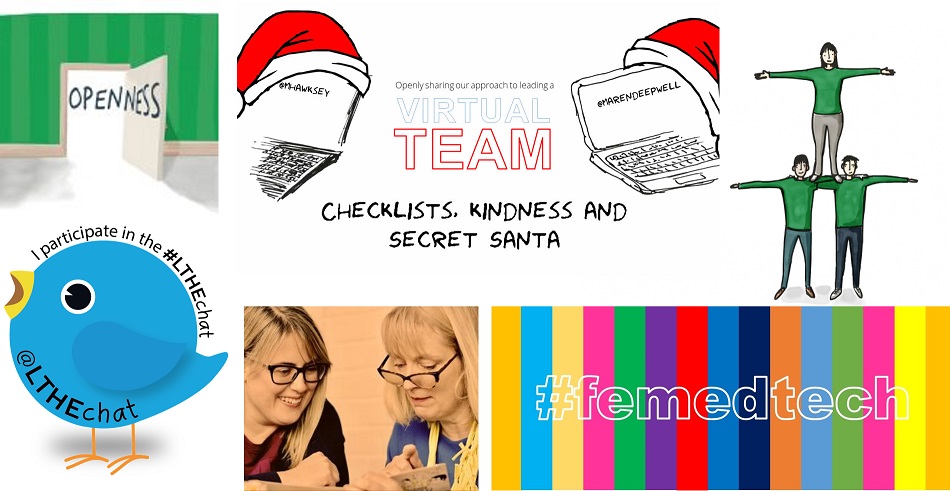 It's been interesting to reflect on the year in Learning Technology (previous post) and that has brought about the realisation that much of what I have done this year has been in open practice and collaboration (and all the better for it!). It's also brought about another blog post… 🙂
Some of the work has been around governance and policy, for example in collaboration with Lorna Campbell, Martin Weller and Joe Wilson we produced a policy paper for ALT on openness in education. Since the paper was published I have been working to disseminate this call to action and one such effort was a recent post on Wonke, entitled Openness in education: a call to action for policy makers, with Lorna Campbell which was published on International Women's Day. In the post, we examine the practical recommendations from the policy paper, how they could be implemented and discuss what policy makers could do to realise the benefits of openness in education in different sectors in the UK.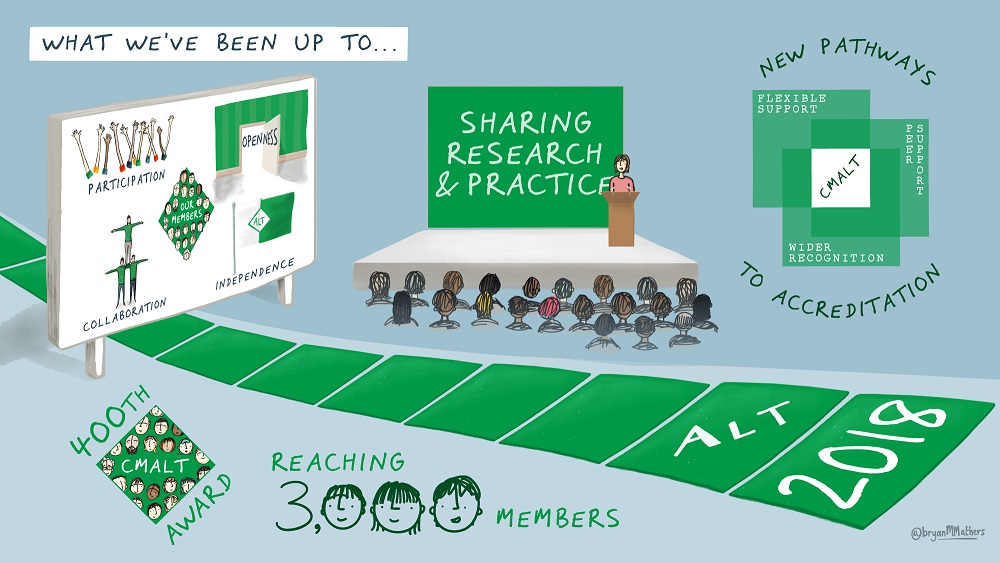 Or together with the Chair of ALT, Sheila MacNeill, I wrote a Joint Report on strategic progress, 1 Feb 2018 – and we continue to publish minutes from Board meetings alongside all our governance information. Open governance is one of the most interesting areas of work and I have been particularly enjoying talking to other membership bodies like UCISA, ILTA and ETUG about their approach or sharing expertise in groups like ALT's strategic working group for our journal Research in Learning Technology (some of which I shared in this Gasta at EdTech2018).
Collaboration beyond my #altc colleagues led to this collaborative project, about how Learning Technology professionals and start-ups can work together. It started with a blog post call to action written jointly by Anders Krohn, CEO of Aula and myself, and led to a series of consultation sessions with academics, technologists and innovators, resulting in contributions to the first version of the Edtech start up guide, which was published early in 2018. Anders and I then followed up with a second blog post on the altc blog, including a contribution from Peter Bryant, LSE, to launch the guide, share some of the case studies and lessons learnt we collated and to look ahead at future work with start ups on the guide and in the community.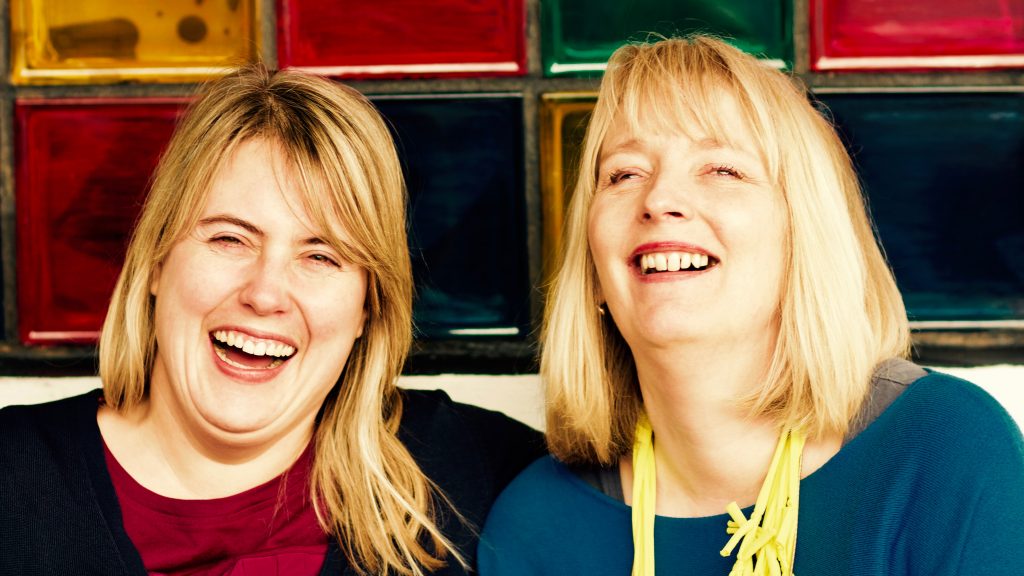 And also, later this year, as part of my commitment to an open approach to leadership, I've asked my mentor Margaret to collaborate with me on a three part series to share our insights into being a mentor and what it's like to have one. This project turned out to be much more intense than I had first anticipated and reminded me that even with experience sharing practice openly can be really challenging. We focused on different aspects of mentoring, reflecting on what it takes to get through tough times, how we built a blended approach to mentoring and the real benefits of having a mentor.
One of my favourite networks to collaborate with this year has been the growing #femedtech community and I have been advocating for the network at every opportunity at events  as well as volunteering as a guest curator of the @femedtech Twitter account. Promoting equality in all its forms in Learning Technology is one of the most rewarding aspects of my work and there is always SO MUCH more to do. 
I also set up a TAGS Twitter archive and TAGSExplorer for the #femedtech hashtag, to help chart and visualise the conversation as it evolves: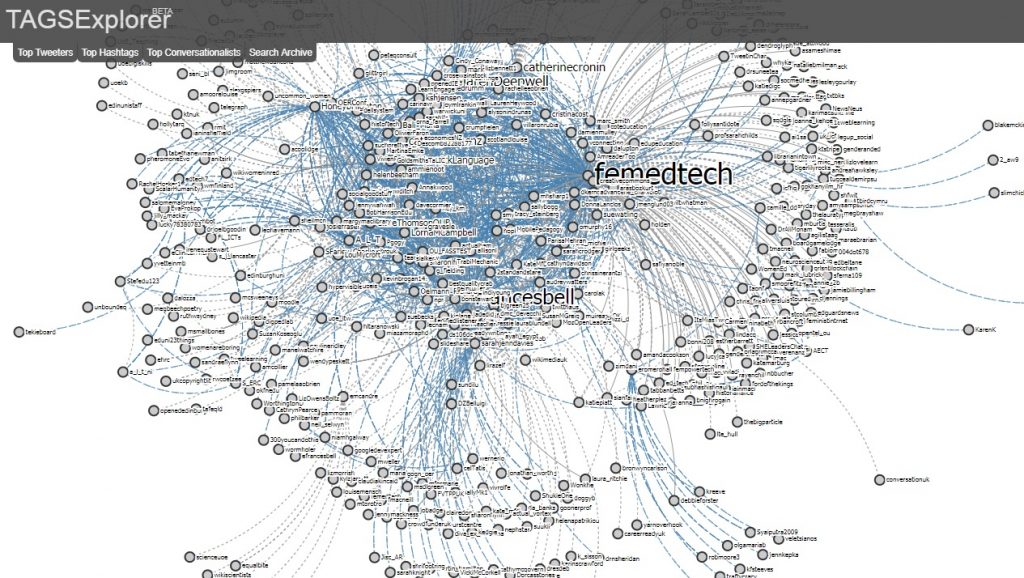 This year I have published 30 blog posts on my blog and about half of these this year have been chronicling how my colleague Martin Hawksey and I have led ALT through its transition to becoming a distributed organisation and establishing a new working culture as a virtual staff team. Our monthly series of posts has been at the heart of all my work this year, touching on everything from people management and well being at work to the technical challenges of remote working and the nuances of working in the open. Writing these posts whilst everything is actually happening, rather than sharing output from work that is in the past, felt far more scary than similar kinds of work I had done before.
There is much of what I do day to day that I hadn't managed to make part of my open practice before this collaboration – leadership, management… these are not the most straight forward topics to share (especially when you are everyone's 'boss'). It feels easier to share ideas, innovations, practical things others can use or read up on. Sharing how we lead a team is a completely different proposition and I am glad that following Martin's initial prompt I have taken up the challenge to create an open approach to share and reflect regularly. In previous years I have blogged about it… this year it feels like I am actually DOING it. 
It's also taught me much about the value of collaboration itself, about really leveraging what each person brings to the table and to create something that goes beyond anything that could have been created on an individual basis – and that, I am particularly grateful for.
On that note of gratitude to ALL of my collaborators this year, I am going to end this post and make plans for 2019… .