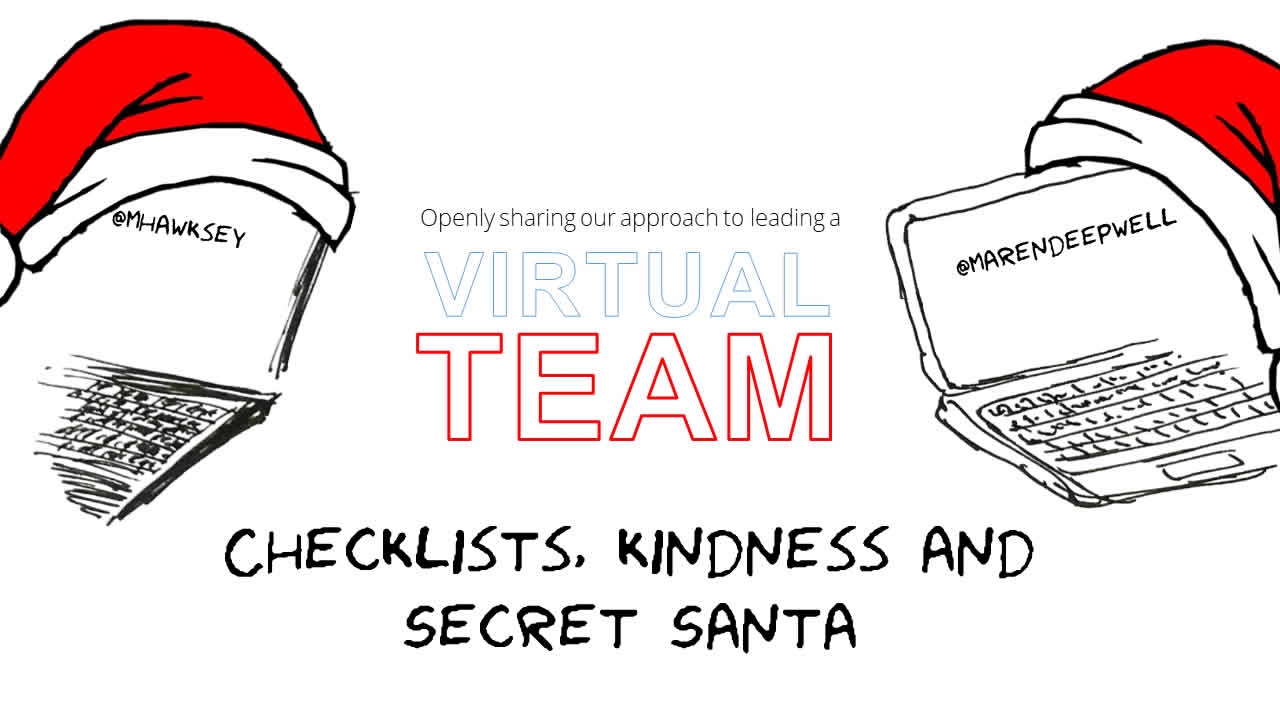 Martin Hawksey (@mhawksey) and Maren Deepwell (@marendeepwell) publish a monthly series of posts openly sharing our approach to leadership.
If you are new here, you can catch up on earlier posts and podcasts below or find out more about ALT, the organisation we work for as senior staff. We really appreciate comments and feedback and welcome questions or suggestions for future posts.
All posts and podcasts are cross-posted on Martin's blog here.
Podcasts
Posts
2019
Virtual Teams: Strategy unpacked… how being a virtual team is changing our organisation – his time we talk about how much strategic progress we have made in the last few years and how being a virtual team has contributed to that. We also discuss our values as an organisation, how we have tried to reduce our impact on the environment and the upsides of being geographically distributed.
Virtual Teams: The perfect blend? Bringing the skills of distributed teams to face-to-face events (special podcast edition) – This time we talk about how we as a digitally and geographically distributed team connect face to face and why we think a blended approach is important. 
Virtual Teams: Creativity Hacks for Virtual Teams (and why we maybe do like emoji after all) – This time we get creative as we share our favourite ways to have some fun, create, collaborate and share. We also have another think about emoji.. which a year ago we gave a rather cold review.
Virtual Teams outtakes: Heatwave home-working – in this post, which is an 'outtake' from my regular series of Virtual Teams posts with Martin Hawksey, I share some of our experiences and tips for home-working during a heatwave…
Virtual Teams: It's good to keep in touch …. most of the time 😉 – This time we touch base after both being on international duty for ALT and discuss how our use of social networks often gets blurred between personal and professional. We also think about the role of social media in virtual teams and how social media can be useful for bridging work and social lives, including the challenges this brings to striking the right balance.
Virtual Teams: Stickers, "I love me" walls, CPD and travel (also, this is really about recruitment) – This time we're talking about how we recruit new staff, what it's like to carry out a virtual selection process and how that led to interesting reflections on what it means to be professional as a home worker in a virtual team and how we approach professional development.
Virtual Teams: Applying order to chaos – This time we're talking about team culture, upgrading workflows, the ISO9001 Standard, the MIT90s Framework, our dislike of management terminology and the impact of being busy on communication and collaboration as a virtual team.
Virtual Teams: Things that don't look broken still need fixing – we discuss equality, online collaboration and 'The Open Organization Leaders Manual'.
Virtual Teams: special #femedtech podcast edition – we share our reflections on how to promote equality in a distributed organisation and our joint keynote for the University of the Highlands and Islands on International Women's Day 2019.
Virtual Teams: When things get personal – we talk about professional development, meeting around a collaborative document, share tips for online meetings and examine the impact of your set up for home working.
Virtual teams: a special podcast edition – With the transition to becoming a distributed organisation and one year of leading our virtual team under our belt, we reflect on the highs and lows, the good and the bad and most importantly on what's ahead as we continue to develop this project in open practice. 
2018