I am very excited to spot the announcement for Hacks for Hybrid Working, a new flex course starting on October 24th, in the September edition of the Reclaim Roundup which links through to Lauren's preview post of the course.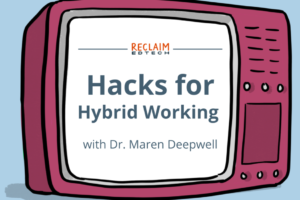 For many of us in Higher Ed, hybrid working is here to stay. So whether you'd like to create a better work/life balance juggling being on campus with working from home, or you are looking to move from crisis mode to a way of working that is more sustainable, healthful or simply a little more joyful, this course is for you. Join us to explore hacks to create a better hybrid workplace for everyone.
For me, this is the ideal project closely related to Leading Virtual Teams, which is due to be published next month. I appreciate the opportunity to collaborate with Lauren and the amazing folk at Reclaim outside of my day job and to have the opportunity to share some of the know-how gathered on how to make hybrid working work for you.
The cherry on top is that this course is free for anyone to attend and participate, so if you are keen to learn more, register here to receive event information.
What's the course about?
Lauren explains in her post:
We'll be meeting over the course of 4 weeks beginning late October through November to unpack hybrid working and all that it entails. These sessions will be a continuation of our OER22 presentation, Building Connections with Virtual Teams, as well as our radio broadcasts that I've outlined in my post, Working Habits, Self Evals, and Finding Connection. I'm really looking forward to diving further into personal working habits that take shape in virtual/hybrid settings, evaluating our relationships with digital tools, and building out a Hybrid Working Roadmap.
Here's our topic list:
Week 1: Hybrid Working Unpacked
Week 2: Digital Tools in the Virtual Workplace
Week 3: Exploring Hybrid Working Hacks
Week 4: Complete your Hybrid Working Roadmap
There is so much fun in store, including a special radio session and a SPLOT site alongside the course materials and tools we'll be trying out.
How can you take part?
Sessions will premier on watch.reclaimed.tech/hybrid-working when the time comes, and we'll also be chatting in the #hybrid-working discord channel! Also, make sure you check reclaimed.tech for weekly blog posts with supplemental resources, quick links, a SPLOT or two, and even some homework.
When: October 24 – November 18
Weekly video sessions each Mondays at 11am ET
Live Q&A/discussion time on Fridays at 11am ET
We are really looking forward to seeing you there 🙂