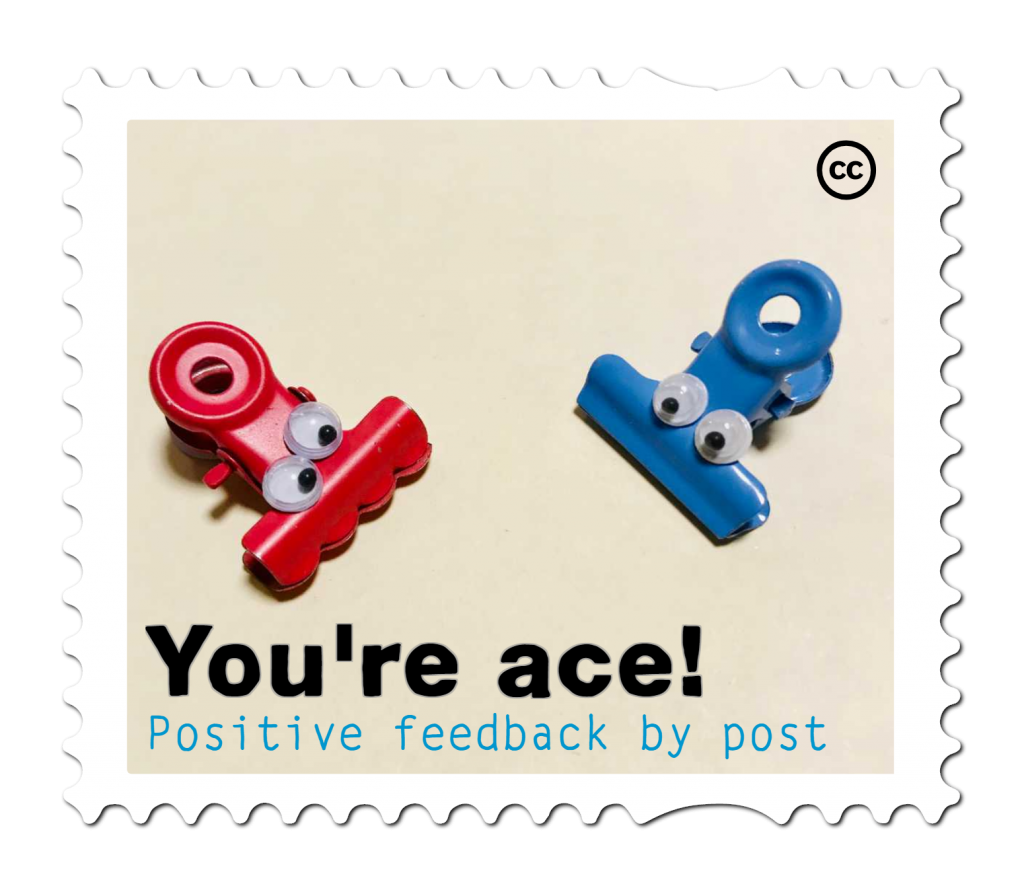 In a recent post on positive feedback I talked about how to use positive feedback for personal & professional development. As I wrote the post I had an idea to try out a new approach to giving and receiving positive feedback in a virtual, distributed team: I made a template and sent an envelope to each of my colleagues in the post, enclosing a piece of positive feedback from me to them, as well as templates, envelopes & stamps for them to send each other positive feedback. That way, I hoped, we would each receive several pieces of positive post in the mail over the next week or so.
If you'd like to have a look, here is the CC-BY template I created.
So, what happened next?
Writing and sending feedback
I really enjoyed the process of printing, folding and making each envelope to send and in particular writing the feedback by hand. I hardly send or receive any personal letters and putting pen to actual paper made this feel special.
Writing solely positive feedback, rather than including constructive criticism like I would for a performance review, felt liberating.
I wasn't sure what to say, at least initially. Or how much to write or what to focus on. But looking back at the original article that prompted me in this action, I tried to find something that I felt had made a big difference and why. Once I got started, there was a lot I wanted to say.
Once I had written everyone's feedback I put the envelopes in the post and I didn't keep copies.
You've got post!
The following week I told my colleagues about the project, shared the blog post I'd written and everyone started to wait for their letters to arrive.
As a distributed team we only rarely receive physical materials, mostly equipment or printed materials. My last letter from work was a tax certificate. Sending and receiving mail that we all knew would contain only good news made a difference.
We send each other secret santa presents by post, and sometimes souvenirs from conferences or thank you presents, but it's a rare occurrence to get those, so a special delivery like this is noteworthy.
And it wasn't just a single person, i.e. me, sending something to everyone one way. Instead, everyone sent a letter to everyone else (our team being small enough for that to be practical).
You also never quite knew when a letter would be arriving and for remote workers post and parcel deliveries (mostly for other people) are a common feature of work days. But getting something just for yourself makes for a welcome change.
Reflection
Creating, distributing and receiving small moments of positive feedback was a very worthwhile exercise.
Firstly, it made me focus on the positives more and once I did, there seem to be more of them!
Secondly, it was useful to practice receiving positive feedback. It is true that it feels more powerful when not accompanied by negative feedback at the same time. Making space to absorb positive feedback meant that it stayed with me a lot more than it may have done otherwise.
The reaction from colleagues to both the method and the focus of the exercise was also positive.
A cpd task, which we as a team set every month, that focused not on learning new stuff or improving something, but on recognition for what is good, what we do well, proved a joyful experience and a relaxing one, too.
As well as practising receiving positive feedback we all had the chance to articulate something positive to each other and that, too, felt worthwhile.
P.S. Maybe it's time for further thinking about postal projects for distributed teams… .