Some time ago I wrote a blog post about how ALT contributes to this year's Mozfest together with my colleague Martin Hawksey. It was the first time for us to take our work to this event – one of the biggest of its kind anywhere in the world. Mozfest brings together a unique and diverse community from across the world and everyone gathers at Ravensbourne College in London over a weekend packed with all kinds of sessions, activist talks, making and discovering. 
If you are keen to find out what we talked about at Mozfest when we were joined by Bryan Mathers who contributed his Visual Thinkery to the workshop, have a look at our slides & links at http://go.alt.ac.uk/Mozfest17 which also include Bryan's capture of participants' contributions: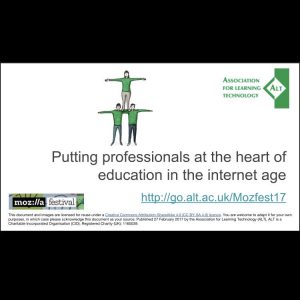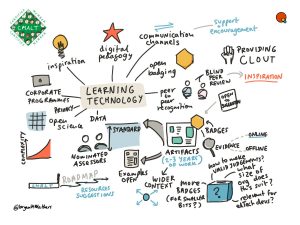 Both Bryan (link to Bryan's session on The Seven Co-operative Principles ) and Martin (link to Martin's session: Machina a machina: An introduction to APIs through Google Sheets) also ran other sessions during the weekend and I am including links to them so you can explore a bit further.
For me, my own first experience at Mozfest, which I thoroughly enjoyed, can best be summed up in these photos. It was an amazing experience – a big thank you to everyone involved in making it happen!