What a week it's been #OER17… As I wasn't able to catch that many sessions while running the event, I am enjoying reading, watching and catching up with everything. And there is a lot out there – photos, drawings, presentations, videos, recorded live streams and an ever growing number of blog posts. Thank you for sharing!
Before the conference I had three hopes:
First, learn & listen about how Learning Technology can support openness. I am thinking here about technology used for learning, teaching and assessment in any context (ALT's definition is useful here) not the more specific 'educational technologies' like VLEs or e-portfolios.  The huge potential of technology for all kinds of openness is evident – but what this conference made me think about is how critical it is for staff and students to gain sufficient understanding of the tools, platforms or networks to make informed use of them. That would include understanding what data about them is collected and how it is used, what footprints they may leave and for how long and so forth. Providing support for developing this kind of fluency can be difficult, in particular when in many institutions the concept of openness is contested. I came away with many questions and a sense that there is much to tackle once I get back to my desk…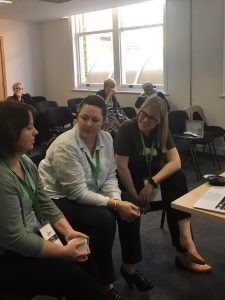 My second hope for OER17 was to make time for people and conversations. That was probably the most enjoyable aspect of my days, and like many other participants I was delighted to be able to connect in person with many individuals from my social networks. One of the highlights was joining a Virtually Connecting session with Lisa Taner and Lucy Crompton-Reid, facilitated by Martin Weller – and I am grateful to Maha Bali for inviting me. You can now watch it on YouTube . Meeting participants from different continents and having a conversation that bridges the physical divide was a great way of seeing things through someone else's eyes. The social events before and during the conference were another good time for catching up and I was impressed by the bowling, ping pong and karaoke going on all around.
Together with Bryan Mathers I ran a workshop and Bryan has kindly shared all the content from the presentation and the featured image above, the 'Live Thinkery' I helped facilitate. The workshop was called "from Voice to Visual" (prezi is here) and we were looking at the creative journey of the ALT visual strategy. If you haven't already, visit Bryan's page dedicated to OER17 and find all of his visual thoughts, all licenced CC-BY – thank you, Bryan!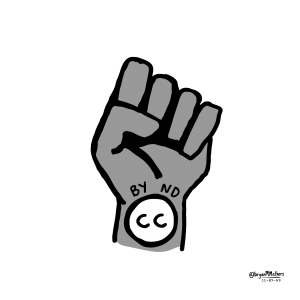 Conferences and communities like this are special to me, so my third hope was to enjoy the two days (and not 'just' do the day job). With so many inspiring and engaging sessions in the programme it is hard to pick out any specific ones. What brought it all together was the plenary panel. The recording of this session and the content created during the session are life affirming and I particularly enjoyed the Storify #OER17 #IWill shared by Catherine Cronin. Asking everyone to share their intention, their hope for making change and taking action was a powerful reminder of how much individual action matters, how much each of us matters. My experience of OER17 was a testament to that.