This report was originally published on the #altc blog.

Dear Members
We are deep in preparation for our Annual Conference in September, our AGM and upcoming Trustee elections, while the awards judging and CMALT summer assessments are underway as well. This is the busiest time of year for our Association and my report to you includes important information for you as Members and our wider community.
A special mention to begin with, to celebrate the launch of Digital Learning in Higher Education, for which ALT hosted the preview webinar and which includes a chapter based on findings from our Annual Survey.
Enhancing our Governance
The Board of Trustees has completed a year long review of our governance arrangements in order to ensure that our practice reflects the Charity Governance Code, which was updated at the end of 2020. The Board started planning for the review in February 2021 which concluded in June 2022. All Trustees and staff took part in the assessment process, reviewing examples of our current practice against recommended standards, and agreeing actions for each area of our governance. The Board found that overall our current practice conforms to the updated code and reflects recommended best practice. The Board identified a number of operational actions and two wider areas in which to enhance our governance, specifically in relation to Board Effectiveness and Equality, Diversity and Inclusion, with a number of actions being implemented.
I encourage to read this update from the Board on the review process and the priorities for action we identified.
Trustees and staff welcomed the opportunity to review our governance and the outcome of the review process has highlighted ALT's strong and robust governance overall. This was especially important during the difficult times of the pandemic which posed great risks for us as an independent, small charity. Our focus now is on implementing the actions the Board has agreed and to communicate the outcomes of the review and our progress to Members and to all our stakeholders. We will share initial findings with Members at the upcoming Annual General Meeting (AGM) in September, and subsequently report at least annually, usually at the AGM on our progress and what actions we are taking next.
Trustee Elections and AGM 2022
Our 2022 Annual General Meeting, will be held in person and online at ALT Annual Conference, 7 September 2022, Manchester UK. All Members are encouraged to attend and the AGM is also open to guests and observers. The Agenda for the AGM will be issued at least two weeks prior to the meeting. All papers for the AGM and related information will be published online.
We also issued a call for nominations for two Trustees to serve an initial three year term to be elected by Members. In response to the call we received nine nominations (each nominated by two Members), which is the largest number of nominations received in the past ten years and a great testament to the strong commitment our Members have to getting involved in ALT. Our elections will be conducted online by the Electoral Reform Services and the result will be communicated to members at the AGM. All eligible members will be sent an email with instructions on how to use the secure Internet ballot site. All elections and appointments of Trustees are undertaken in line with ALT's aims and values, and our policies for Equality, Diversity and Inclusion.
We encourage all eligible Members to make their voice heard and use their vote.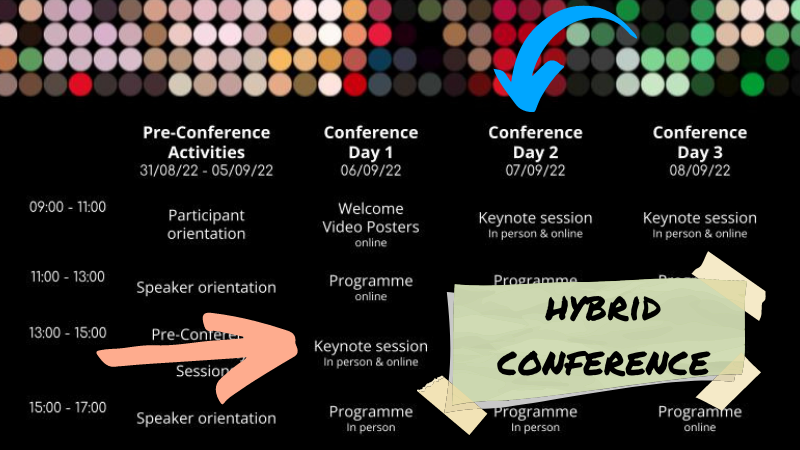 Annual Conference 2022
I am very much looking forward to seeing our flagship event in a new hybrid format for the first time. We recently published a look behind the scenes and shared our thinking behind the format. We are putting our values into practice and Members at the heart of the conference, so in this spirit the event will be chaired collaboratively by the Trustees, who work closely with the Conference Committee. Every Annual Conference we have organised since 1993 has been led by Co-Chairs and their Conference Committee and we invite you to learn more about the important the work they do.
It has been heartening to see both long-standing and new Member organisations step up to support the event, as sponsors and exhibitors. We are also working in partnership with the Ufi – Voctech Trust to deliver the AmplifyFE strand of the conference; and with Jisc, on the inaugural Award for Digital Transformation. Our collaboration with ITN Productions which is now in its second year, was recently short-listed for the Best Collaboration – Association Excellence Award.

Meeting Members and sharing what's in store for autumn
Earlier this month I attended the annual meetings of the ALT Scotland, ALT Wales and ALT Northern Ireland Members' Groups. It was a privilege and pleasure for me to meet so many Members, both in person and online, and to get a better sense of what everyone is focused on.
It was especially enjoyable to be able to join Members gathering at the University of Cardiff, which is local to me, and join in some of the social activities.
For each group I shared an update (watch the video of my update to the ALT NI meeting), sharing strategic priorities for the year and providing an overview of key developments across the Association.
It was fabulous to see how much creativity and organisation went into each day and seeing Members support each other in participation in the face of the continued impact of COVID-19 and train strikes.
Working with our Members is always inspiring, and I am grateful to serve such an active and impactful community, and hope to see and connect with many of you come September!