Be warned. This is a blog post about strategy… which is not the most exciting of topics (usually). I was trying to find a good title for this post and all the ideas I had sounded awful:
What a difference good governance makes…
The privilege of being a CEO
The power of really listening
Making stuff happen…
Anyway. If you are still reading this then I am grateful as I really want to share some work I have been involved in over the past 9 months that has inspired me and reminded me that when you put your mind to it, you can really make a lot happen.
I am writing this during a week when much is already going on in the world, in the UK, in education and in Learning Technology. Come Thursday, when ALT launches its new strategy to its membership, there will be something else to add to the list. And this one matters much to me, and to the Members we work for and represent, as it will set the direction for the next five years.
There are a few things that I used to be doubtful about when it came to strategies such as: does anyone ever read them?! Does anyone, including staff or Trustees, know what they say?? Does anyone care? How does a suggestion made actually shape the things that appear in the final, committee approved version? Most of the time, the answers to these questions are not encouraging. But I am not feeling cynical today and I want to share some of the things that I feel set ALT's next strategy apart from many I have come across previously and also what makes the process of arriving at the strategy so valuable and effective.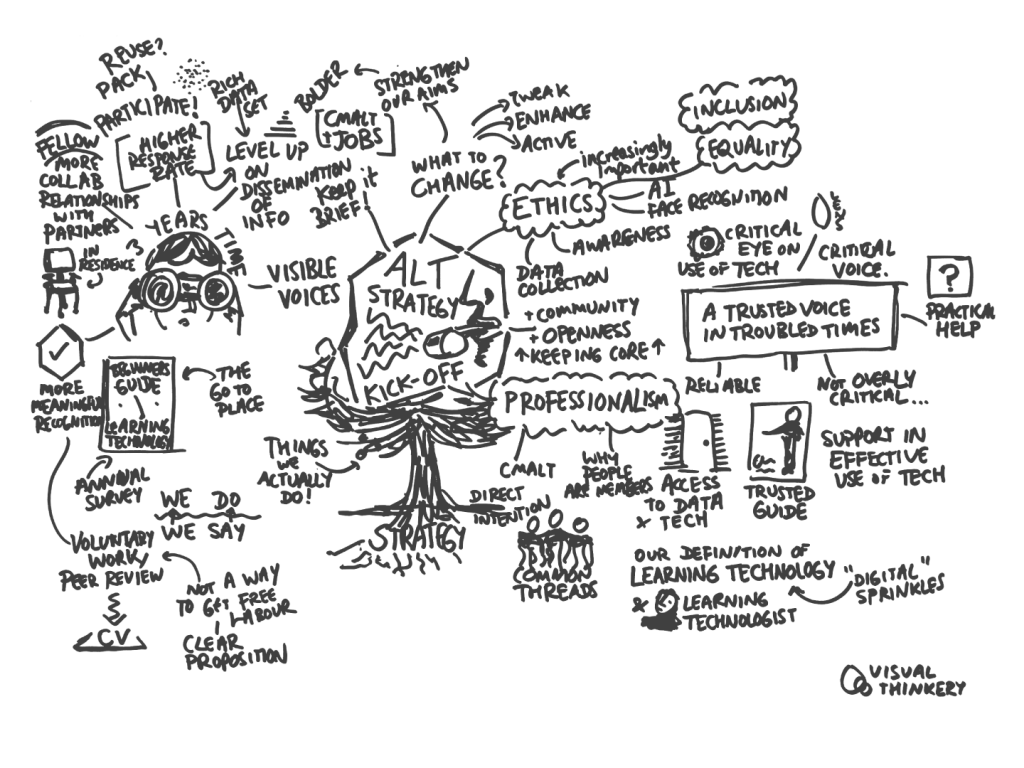 What's involved in making our strategy? 9 months of listening.
Phase 1: initial internal planning (June – July) This phase included:
Project plan
Initial visual thinkery conversation
Consultation timeline
Operational review & planning
Financial review & planning
Review progress of current strategy
Phase 2: external consultation (July – January) This phase included:
Strategy suggestion box
Quarterly updates to Members
Assembly meetings every month
Online Winter Conference with dedicated strategy sessions
Annual Survey – data from which is published openly each year
Phase 3: Board of Trustees strategy work (July – January) This phase included:
Fortnightly progress updates
Board of Trustees meetings
Visual Thinkery sessions
Strategy progress and impact report
Consultation plan & outline
Draft strategy & planning
Phase 4: Staff Team strategy work (July – February) This phase included:
Staff Team meetings every month
Individual input from each member of the team
Strategy thinking session for senior staff
Review Priorities year 1-5 based in input from Members
What shapes our strategic priorities? Members having their say!
One of the things we look at in the final phase of writing the strategy is where input for specific aims has come from, which this year includes: several suggestions received throughout a 6 month period through an online suggestion box, which are directly included in this year's strategic priorities. Also, we get feedback through events, which included a strategy session at the Annual Conference in September and the Online Winter Conference in December as well as monthly meetings of the Members Assembly. In addition, some of the priorities we identified during strategy days, the formal consultation and the Annual Survey as well as a specific consultation around ALT's CMALT framework.
Whilst most of the input comes from Members already involved in ALT, much of the consultation process is open to everyone with an interest in Learning Technology and it's been really valuable for me personally to think along with people who don't know much about ALT, who don't know what we have already done, where we have come from since 1993. Having worked for the same organisation for over 10 years, it's useful to have the opportunity to look at what we do, how we talk about it and what we could do better through fresh eyes. One of the ways in which we do that is through Visual Thinkery.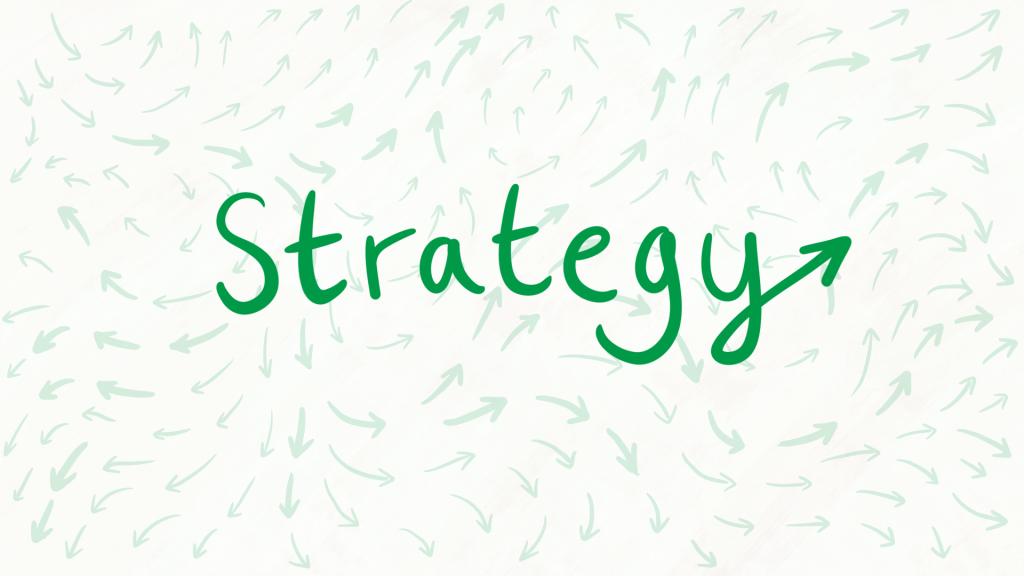 Conversational leadership: one way of reminding myself of what I don't know…
Creating this strategy is a collaborative process and many people have input, many voices shape the thinking that goes into it. Yet in my position as CEO there is a certain amount of leadership that I need to bring to the process for everyone involved from Trustees to Members to staff, a kind of overall vision that frames the work that is going on. I used to be more rigid in my approach to providing that kind of leadership, but over the years I have come to find that it results in a poorer output, a less ambitious, less relevant strategy. So how do you lead a conversation without knowing what you don't know? I found working with Bryan Mathers one way of achieving that, my favourite way to having a genuine conversation, an authentic consultation that gives everyone, myself included, permission to really think.
And the result?! Well, you will have to keep your eyes peeled at the end of this week to find out what the future holds in store #altc (and it may NOT all be green).
I, for one, am deeply grateful that nine months of work, that so many have contributed their time, energy and effort to, have resulted in a shared vision and shared values that I believe in, that inspire me and that will make a positive difference to Learning Technology professionals in the UK and further afield. Thank you for making this the best strategy I have been part of (yet).