This week I am contributing to a conference called FELTAG 2017: Embracing Digital Technology in Further Education and I am pleased to have been invited to give a short keynote as part of the programme. My talk (slides) will focus on workforce development to maximise Learning Technology impact in three ways: first, I set out what questions we need to ask about skills and capabilities, second, I explore how and open online course can support workforce development and third I showcase how ALT's accreditation scheme, CMALT, can help increase intelligent use of Learning Technology.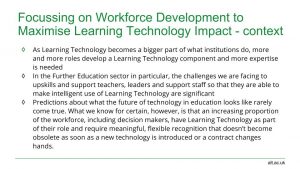 This sets out the context for the talk and draws on other things I have recently written, first for FE News in an article about Digital Skills development in the workforce , and then also on the Efficiency Exchange in a post called Accreditation fit for a (digital) purpose?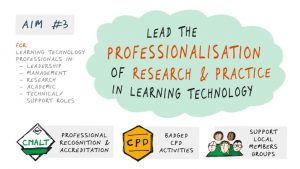 The ALT strategy places a form emphasis on professional development and recognition for different roles in Learning Technology and the broad range of professionals who need different levels of skills and capabilities is something I am particularly interested in. CMALT, ALT's accreditation framework is one of the topics I will be exploring in my talk.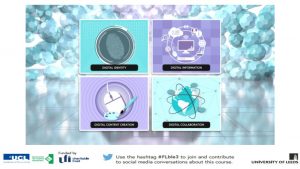 One of the projects I am involved in via ALT is the development of the Blended Learning Essentials courses, led by Prof Diana Laurillard and Prof Neil Morris. These open online courses run on the FutureLearn platform and the next one to launch has a focus on developing digital skills.  It's a useful example of how such initiatives can support individual and institutional CPD across the sector.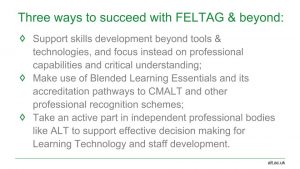 As I was part of the original Ministerial FELTAG Group and a contributor to the recommendations made in 2014 the opportunity to speak about what's happened since and how much progress we have made is welcome. However, while I can see much positive change, there are also mounting challenges not just in relation to Learning Technology, but the FE system more generally.
Using technology for learning, teaching and assessment continues to be of increasing importance and its potential grows  each year. Yet technology by itself is no answer to some of the larger, structural challenges facing learners, teachers and providers and those continue to mount. So whilst I am looking forward to being part of a conference that encourage participants to embrace Digital Technology in FE and look forward to contributing, I think it is the people, the teachers and trainers, that we really need to focus on.