Dear Members
This is a special year for our Association as we celebrate thirty years since ALT was established in 1993. As we prepare to mark this important anniversary as the leading professional body for Learning Technology in the UK and as an independent charity serving our membership, we want to focus on how we can build on what has been achieved as well as what's ahead.
Help shape what's next
Our work across sectors, serving a growing community with diverse needs and priorities depends on your input and we invite you to complete ALT's Annual Survey for 2023. Help shape what is ahead and contribute to our unique insight into how Learning Technology is used across sectors as well as identifying emerging trends in current and future practice. The survey provides an important insight into how professional practice within the field of Learning Technology is developing. The purpose of this survey is to:
Help map professional practice and development in Learning Technology;
Chart how Learning Technology is used across sectors;
Understand current practice to better meet the needs of and represent our Members.
The Annual Survey also helps to improve ALT's monitoring and reporting in order to promote equality, diversity and inclusion. The closing date for responses is 5 February 2023 . Complete the survey now.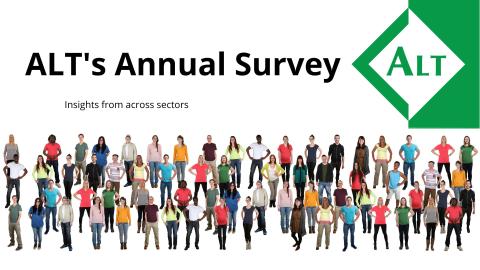 New events programme launching for 2023
Our events programme is at the heart of the work we do and attracts over 5,500 participants a year. Through a varied programme of webinars, workshops and conferences we increase access to expertise and continuing professional development (CPD) for Members and participants from across education and training sectors. ALT's new events programme that has been developed to meet the needs of our community and deliver value for our Members.
We are launching a new annual virtual summit for (emerging) leaders which will focus on key issues identified through our annual survey;
Our highly successful CPD webinar series will expand to include experts from across sectors, offering regular professional development aligned with the CMALT accreditation framework;
ALT's flagship Annual Conference and OER Conference will continue to innovate as leading hybrid conferences in their field;
Our new in person 1 day events, taking place annually across the UK, will expand opportunities for networking and knowledge sharing.
We are really excited to bring new events into our established calendar of activities and to continue our CMALT Webinars and support the work of ALT Member and Special Interest Groups.
Find out more about new event benefits for Members.
New MoU between ASCILITE and ALT
I am delighted that we have an updated Memorandum of Understanding (MoU) with ASCILITE. There is a long-standing collaboration between ALT and ASCILITE and in recent years we have actively worked together on initiatives including CMALT Australasia and baselining best practice Open Access journal publication.
This Memorandum of Understanding (MoU) provides a framework for areas of joint working between ASCILITE and the Association for Learning Technology. It sets out how the two organisations will work together to ensure that shared objectives are taken forward and provides a platform on which to build joint working.
Did you miss…?
A quick summary of highlights from across our community:
This post was originally posted on the ALTC Blog.