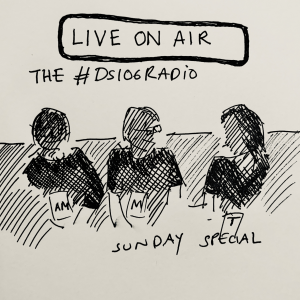 It's a few weeks into lock down and the last couple of Sundays, Anne-Marie, Tannis and I have been getting together on the airwaves, playing tunes and sharing stories on DS106Radio. Many of us are tuning into the live stream in recent weeks:
Our first live broadcast, on Sunday 29th March, was an improvised conversation and playlist, organised very much by Anne-Marie, who figured out the technical set up required to mesh Skype call and internet radio first. The second one, the following week, on Sunday, 5th April, had a bit more a theme, but still ended up being very much just a conversation. Talking with each other and sharing our voices with our audience feels more important than ever in these times of isolation.
Anne-Marie is recording and hosting recordings on her blog:
Our second #ds106radio show. We did it again!
We were picking from our Scottish Surprises Spotify playlist.
I have bee really enjoying playing tunes and sharing memories as well as checking in with two friends who live far away, on a different continent, connecting across time zones.
I have also been drawing… making virtual stickers:
Like many others, I have been enjoying tuning in to the online radio 'emergency broadcast' listening to familiar voices and some that are quickly becoming familiar, sharing stories of coping under lock down, facing uncertainty, sharing loneliness and lack of freedoms.
I love the broadcasts, partly because they remind me every day that there is nothing 'business as usual' about this time. That it's completely OK not to function or cope or be able to even get up in the morning.
The radio also reminds me of how resilient human beings are. It gives me a sense of how hard everyone is working, fighting, trying. There's hope on the airwaves.
To all of you who are sharing songs and stories, thank you. I am out there, listening.
To all fellow listeners, I am sending a hug. A really good one.
See you on Sunday #DS106Radio.