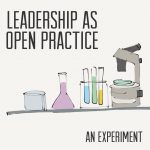 Part of my focus in this blog is on sharing my approach to leadership as an open practice. This is my fifth year as chief executive of ALT, the Association for Learning Technology (if you want to find out more about ALT, visit the website) and over the next few months I will be writing a series of posts – each one reflecting on one particular aspect on my experience and work.
I've been wanting to do this for some time and indeed I do write on this more frequently in a less open forum. But my fifth year in this role seems like a good time to do this and to use this series of posts not just as a tool for reflection but also to provide some insights for others. When I applied for this role in 2012 I would have liked to read something like this and I hope it might be of use to you.
There is a lot I could write about and I have been thinking for a while on what topics might be best suited for these posts. For now, these are the themes I have settled on:
being a woman makes a difference;
I am where the buck stops. That can be a lonely place;
change is a good;
learning new things all the time is a must;
what motivates me.
So, that's what's coming up. I haven't written it yet, but this post is a bit of a road map for where I want to get to with this series of posts. Thanks for reading and look out for post number one, coming soon.