Maren has been CEO of ALT since 2012, shaping the direction of education technology and driving the field forward internationally. She is a seasoned keynote speaker, conference convener, experienced chairperson and writes regularly for publications in Higher and Further Education as well as policy development. With a background in Anthropology, Maren's particular focus is on a critical perspective on the development and future of technology in education, professionalisation and skills in Learning Technology including development of the CMALT accreditation framework and leveraging technology to create greater equity in education. She currently collaborates with colleagues on projects including open policy development, edtech start ups and organisational transformation which puts her commitment to open leadership into practice. Her work is bridging Learning Technology discourse across sectors in the UK and internationally.
More information about past conferences and events is available in the archive section or you can contact me for further information.
Explore recent talks
Beyond Advocacy, keynote, ALT Annual Conference, 11-13 September 2018. This keynote poses the question 'who shapes the future of Learning Technology?'. We will explore current thinking about what drives how we use technology in learning and teaching and questions the promise of tech that never quite delivers. For decades, technology has promised solutions to help us learn, teach, assess and care better, and yet these visions of the future are always just beyond the horizon.
But how do we move beyond that promise?
How do get beyond tech advocacy and realise the potential of our professional practice for the benefit of learners and the greater good?
To start answering these questions I will explore how professional practice has developed charted through new research into ALT's CMALT accreditation scheme and share examples from recent collaborative work promoting equality in Learning Technology.
The quality of metrics matters: how we measure the impact of research in Learning Technology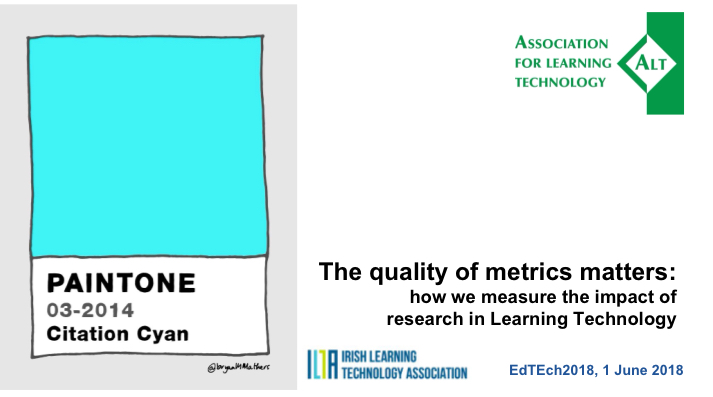 In Learning Technology we need to keep informed about new developments in order to make informed choices about how to enhance the quality of learning, teaching and assessment. Sharing knowledge is key if we don't want to keep reinventing the same old mistakes. As Learning Technology evolves across sectors, so does the way we share our output, enable others to make use of it and gain recognition for it. Drawing on policy publications about the traditional impact factor and alternative ways of measuring impact, this talk explores how things are changing for research in Learning Technology, using examples such as altmetrics, EigenFactor and the H-Index.
MarenDeepwell_Thequalityofmetricsmatters
Critical Perspectives on Blended Learning. Keynote at the BOLT Symposium at Hong Kong Polytechnic University.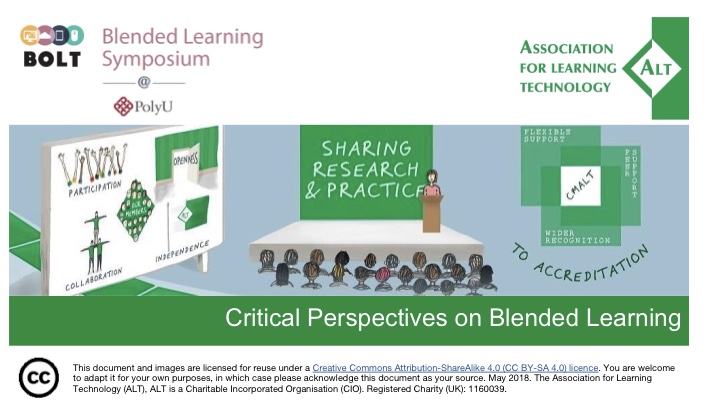 Re-articulating what we value: a new vision for Learning Technology professionals. Panel discussion at Online Educa Berlin 2017 in which I share a perspective on professionalisation in the UK informed by results from ALT's Annual Survey and the development of the CMALT accreditation framework.
FELTAG 2017: Embracing Digital Technology in Further Education: In this keynote I focus on workforce development to maximise Learning Technology impact in three ways: first, I set out what questions we need to ask about skills and capabilities, second, I explore how and open online course can support workforce development and third I showcase how ALT's accreditation scheme, CMALT, can help increase intelligent use of Learning Technology.
EdTech2017 – Promoting equality in Learning Technology through openness: In this talk I explore how openness can be a tool for Learning Technology professionals to promote equality. I look at three specific examples of this, starting with work that's happening close to home in the ALT Member Community and in particular our local Member Groups. The other two examples talk about are the emerging FemEdTech network and the voices still echoing from the OER17 conference. The full transcript of the talk is available here.
OER 17 – From Voice to Visual (with Bryan Mathers): The story of developing a collaborative visual strategy for the Association for Learning Technology. You can view the Prezi for the workshop at OER17: The Politics of Open Bryan put together below: